#MachMYK10: Gemeinsam auf dem Weg zur "Smarten Region"
19.06.2023 | 11:00 - 12:30
Webinarnumber: 0157300100
Gebühr:
125 € zzgl. MwSt.
Gebühr für Themennetzwerke-Mitglieder:
105 € zzgl. MwSt.
Impulse setzen und Potenziale nutzen.
Zusammen die digitale Zukunft gestalten.
Gemeinsam die Region voranbringen.
About the webinar
Der Landkreis Mayen-Koblenz im nördlichen Rheinland-Pfalz ist eines der "Modellprojekte Smart Cities" des Bundesministeriums für Wohnen, Stadtentwicklung Bauwesen) sowie der KfW. Unter dem Titel "Smarte Region MYK10" werden hier vor Ort mithilfe dieser Förderung bis Ende 2027 zukunftsweisende analoge und digitale Strategien sowie Lösungen für alle Daseinsbereiche entwickelt und erprobt. Die Zahl "10" steht dabei für die zehn kreisangehörigen Verbandsgemeinden und Städte, die durch gemeinsame Anstrengungen und Initiativen die Lebensqualität im Landkreis und  somit dessen Zukunfts- und Wettbewerbsfähigkeit verbessern möchten. Als ersten Meilenstein galt es, in einem partizipativen Verfahren die Strategie für die (digitale) Entwicklung des Landkreises bis in die 2030er Jahre zu entwickeln. Politik und Verwaltung sind sich nämlich einig: Die Aufgabe, die Region fit für die Zukunft zu machen, kann nur in Zusammenarbeit mit den Menschen, die im Landkreis leben, arbeiten und wirken, gemeistert werden.
Vor diesem Hintergrund machte man sich seit 2021 auf den Weg, über einen Dialog in drei Phasen mit Zivilgesellschaft, Wirtschaft, Wissenschaft und Verwaltung die Inhalte der Strategie zu definieren. #MachMYK10 war der Hashtag, unter dem all das lief: Verschiedene Werkzeuge kamen zum Einsatz, diverse Kanäle und Veranstaltungsformate wurden genutzt, zahlreiche Erkenntnisse gewonnen. In Ihrem Vortrag nimmt Sonja Gröntgen Sie mit auf die Reise durch die Erfahrungen, die sie und ihr Team der "Smarten Region MYK10" bislang gemacht hat, und wagt einen Ausblick, wie das Vorhaben sich in Zukunft weiterentwickeln wird. Im Nachgang bietet sich die Möglichkeit, über die Inhalte zu diskutieren und Nachfragen zu stellen.
Webinar Content
Überblick über die Region und ihre Merkmale.

Kurzvorstellung des Förderprogramms "Modellprojekte Smart Citys".

Definition und Erklärung des Begriffs "Smarte Region".

Vorstellung des Projekts "MYK10" und seiner strategischen Ziele.

Einblick in einzelne konkrete Umsetzungsmaßnahmen und Initiativen aus 13 Lösungsbereichen.

Beteiligung für Akzeptanz und Teilhabe der Zivilgesellschaft, Wirtschaft, Wissenschaft und Verwaltung.

Der Weg zur regionalen Digitalisierungsstrategie #MachMYK10!

Ein Hashtag für interessierte Bürgerinnen und Bürger.

Beispielhafte Ideen und Anregungen aus dem Beteiligungsverfahren.

Erfahrungen und Anpassungsbedarfe nach zwei Jahren partizipativer Strategiephase.
Speakers And Moderators
Sonja Gröntgen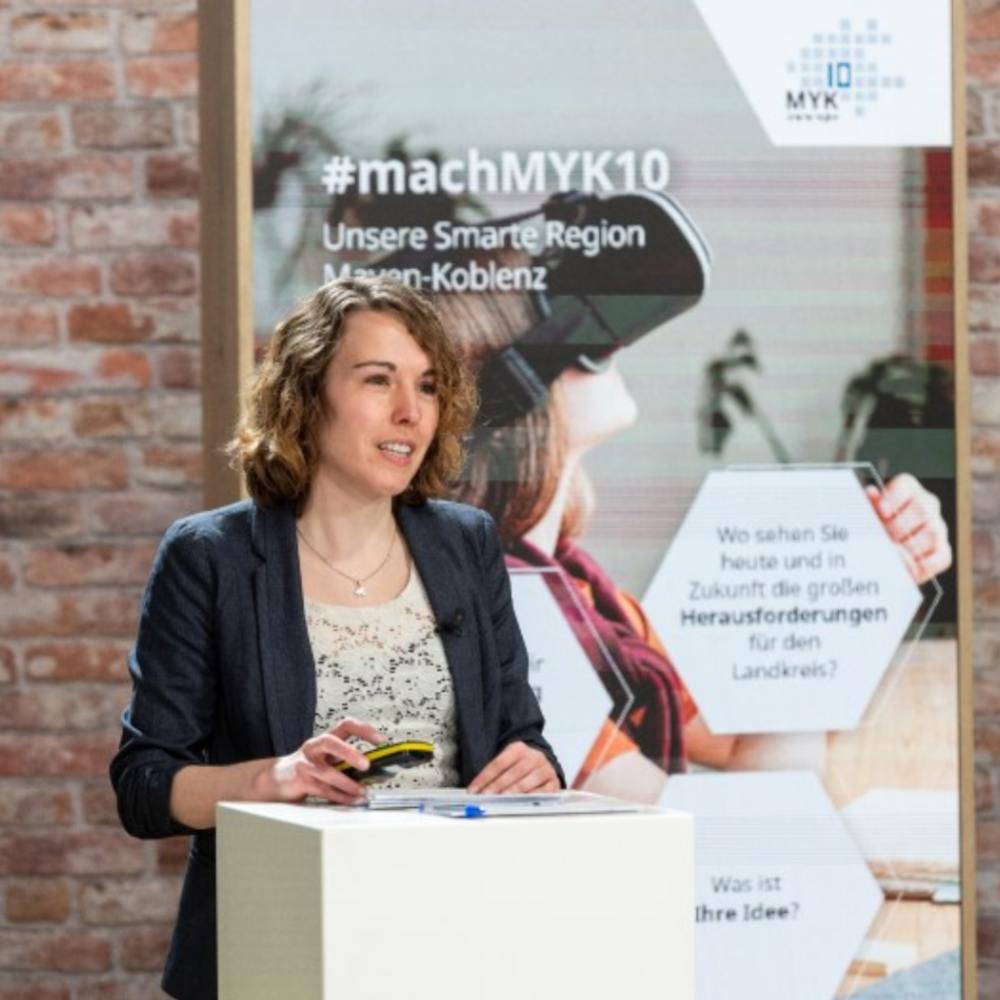 Sonja Gröntgen
Sonja Gröntgen leitet seit Juni 2021 die Stabsstelle "Smart Cities" als Chief Digital Officer (CDO) des Landkreises Mayen-Koblenz. Als solche ist sie zuständig für die Gesamtsteuerung der "Smarten Region MYK10". Zugleich ist sie das Gesicht der "Smarten Region MYK10" nach innen und nach außen – sei es in der regionalen Öffentlichkeit, den lokalen politischen Gremien, aber auch gegenüber anderen "Smart Cities" deutschland- und europaweit. Zuvor hat Gröntgen als Unternehmensberaterin Großkonzerne sowie große mittelständische Unternehmen dabei unterstützt, die Herausforderungen der Digitalisierung zu meistern (Koblenz).
Further webinar dates in this topic network
Join the Themennetzwerken now